It's that time of the year again when you'll have to celebrate another year on this earth. But you've concluded that you don't want to do the same thing you always do every year for your birthday. Why not have a yacht birthday party in Miami or one of our other fascinating travel destinations? Not only will you enjoy the beautiful ocean waters and the breeze in your hair, but you can also spruce up the birthday party with an exciting birthday theme. Here are 10 ideas you may want to consider this year for your yacht birthday party Miami. 
Theme Ideas for a Yacht Birthday Party
If you love dressing up for Halloween, then you'll love a birthday theme that lets you dress up for your birthday. You can have all the fun that you would have at a Halloween party without having to wait for October 31 to arrive - unless, of course, your birthday is on October 31. 
Some may show up in costumes associated with the sea, such as The Little Mermaid. Or some may even come dressed as gangsters from the 1950s. Whatever the case may be, you will have fun turning a year older by being a part of a masquerade. 
1. Movie Characters
Keeping with the theme of costumes, you may want to have an impersonator birthday party in which your guests try their best to dress like famous actors and actresses. They can choose to come as a real actor, such as Johnny Depp. Or they can dress up like the character the actor played, such as Jim Carey in The Mask. In either case, your guests will have fun trying to figure out who each character is. 
2. Disney
By now, you've probably had it with the costume themes. But here is one more for the road. Why not have a birthday theme party in which your guests dress up as characters from Disney? Your guests may show up as characters from The Lion King, Beauty and the Beast, Frozen, or other popular Disney films. But don't rule out old-fashioned Disney characters such as Micky and Minnie Mouse or even Donald Duck. 
3. Hawaiian Luau 
If you don't want to dress up and impersonate others, you can have a birthday theme party in which you and your guests can be themselves and just have fun celebrating Hawaiian culture. This will allow your male guests to pull out those tacky Hawaiian shirts they've been dying to wear but couldn't find a reason to. Also, ladies can put on their Hawaiian garlands or place a flower behind their ears and not look out of place. 
The fun doesn't have to stop with dressing for a Hawaiian getaway. You could also ensure that you include Hawaiian foods. A great option, especially if it's hot outside, is shaved ice. And since it's an adult birthday party, adding your favorite spirits to your shaved ice could really turn the party up a notch. Other great options include popular Hawaiian dishes such as poke or Lomi Lomi Salmon. 
4. White Out Party
Another way to celebrate a birthday aboard a yacht is to dress up in all white. All-white parties are a common theme party for a yacht. This is when everyone dresses in clothing from head to toe that is all white or some variation of white. Such parties are usually chic and sophisticated, but you can decide on how posh or how relaxed the white party should be. 
If you want to take the theme of all-white beyond the dress code, consider including other white items, such as white fish, white meat (such as chicken breasts), white wines, white cake, and other white cuisine and drinks. 
5. Birthday Brunch
Who said that a birthday has to be an evening affair? You can celebrate your birthday in the morning time if you like aboard a yacht. You can have the chef serve breakfast pastries and other delightful breakfast treats. For drinks, your guests could enjoy mimosas. While a birthday brunch may not be as lively as a late evening party, you can still make sure you have as much fun as you like. After all, it's your birthday. You can do what you want!
6. Nautical Theme
What better way to celebrate a birthday party aboard a yacht than by incorporating a nautical theme? While your guests can decide on what they want to wear to appear to be "nauti," you can tie the theme together by providing sailor hats for everyone. To add to the fun, some guests can have a pipe like Popeye the sailor man or wear a pegged leg like Captain Ahab from Moby Dick. Someone could even wear a hook for an arm, like Captain Hook from Peter Pan. There's no limit to how much fun you can have with this theme. 
7. Toga Party
Why not go back to Roman times and celebrate with a toga party for your birthday on a yacht. You and your guests can dress up in their best homemade toga and enjoy a night of fun. Have some light food and drinks, then dance the night away. To make it even more special, you can hire an actor playing Julius Caesar or one of his supporters to come aboard for the festivities. 
8. Beach Party Theme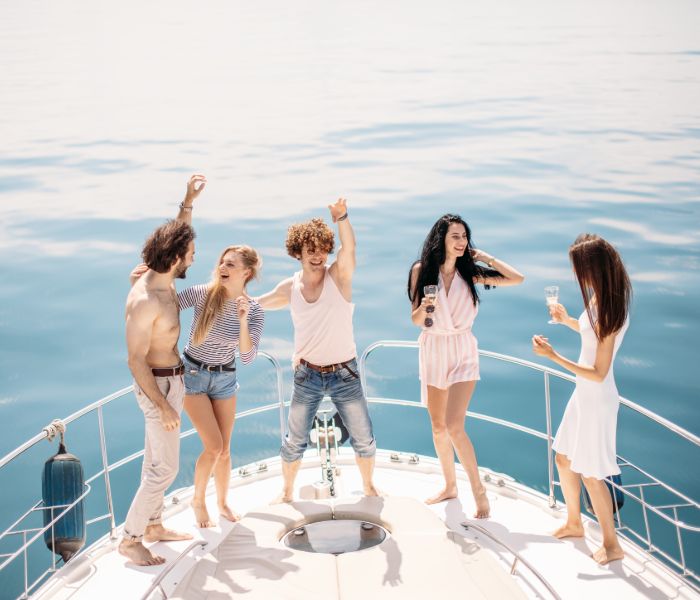 Since you're aboard a yacht, it only seems right that you have a beach party, right? Why not! You can start by wearing beach attire. And for a little fun, you can add a beach ball. To really nail it, you can include barbeque cuisine and tasty summer cocktails for your guests to sip on throughout the night. 
9. Blast From the Past
Even though your birthday is taking you further into the future, you could enjoy a blast from the past by having a theme party associated with one of your favorite decades. Did you love the singing groups of the 1950s? Consider dressing up in clothes from the 50s. Did you love the bell bottoms and afros from the 1970s? Consider dressing up from the 70s. Whatever error floats your boat - no pun intended - make it your theme for your birthday party. 
10. Dress to the Nines
Why not dress up in black tie for your birthday yacht party in Miami? This way, you can be sure that everyone is dressed to the nines for your special occasion. Don't forget a dress code - and make sure it's communicated in advance to all guests. You could even provide some accessories on board, such as fun hats, pearl necklaces, and bedazzled sunglasses so everyone looks their best!
We'll Make Sure Your Birthday is a Night to Remember!
Are you ready to have a birthday party to remember aboard one of our luxury yachts? Call (786) 933-6363  today to book your yacht and discuss possible birthday party themes. No matter what you plan to wear to celebrate your birthday, you should always adhere to yacht etiquette. Check out his article about what to wear or not to wear aboard a yacht. Schedule your yacht rental in Miami today!