Although most believe that yachts are toys of the super-rich and famous, it isn't only limited to just the wealthy. If you want to experience what it feels like to ride on a luxury yacht, but you don't quite have billions of dollars in your bank account, you can still get a taste of the good life by renting a private yacht. You can use it to experience some of the most memorable moments of your life, including weddings, romantic dates, celebrating birthdays, or simply get a glimpse of the Caribbean islands. But, if you are ready to get your sail on, you may be wondering, "how do I book a private yacht in Miami?" Let's discover how to have an enjoyable day or several enjoyable days on a luxury yacht cruise.
How to Prepare to Book Your Yacht
If you have never booked a private yacht, you may be wondering how to do it. Although it seems pretty complicated, it is not as difficult as it looks. The first and most important thing to do is to look at what yachts are available to you. You will have to research to discover which yacht is best for you and your goals because it is rare that they advertise their services in mainstream ways. You may have to work with a travel consultant who can provide you with information about the yacht that you won't be able to discern on your own. It's a good idea to learn as much as you can about where you will be going and how long the cruise will be. You can also ask about the cook and learn what the chef will be serving while on the cruise. If you have strict dietary rules, it would be good to know if the cook can accommodate you or your guests' needs. 
After asking questions and researching the various private yachts that interest you, it is a good idea to narrow down your list to about three of your favorites. Try to pick those that stand out the most for the fun they offer, the comfortable accommodations, the price, and more. Once you have decided on your three favorites, it is a good idea to get itineraries from all of them. Having this will allow you to narrow down your choices further. For instance, if you have one yacht that plans to stop and snorkel for half a day, but you prefer to jet ski, it may be best to scratch this one off your list. 
Don't forget to ask even more difficult questions so that you can get what you want. For instance, do loud noises distract you? If so, it may not be an enjoyable trip if you have to be on a yacht whose motor makes noise the entire time you are on it. This may disturb your sleeping or make for a difficult cruise. Therefore, ask questions about the noise levels. Along those same lines, it may also be a good idea to choose a yacht that is also a sailing catamaran rather than a motor yacht, particularly if you tend to get seasick. You deserve a great experience. So make sure that you ask as many questions as possible to get the yacht of your dreams. 
Another good question is if you have to follow the itinerary to the letter. Sometimes you may enjoy a location so much that you may want to stay for a couple more days. Is it possible to do this? Or is the captain a stickler for staying on track with the itinerary? If so, you may want to choose a yacht company that is much more flexible with your whims. Finally, keep in mind that renting a yacht may come with additional expenses that you will have to be responsible for, including the fuel and docking fees. So you won't be caught off guard with excess fees, make sure you try to find out the fees before booking your yacht.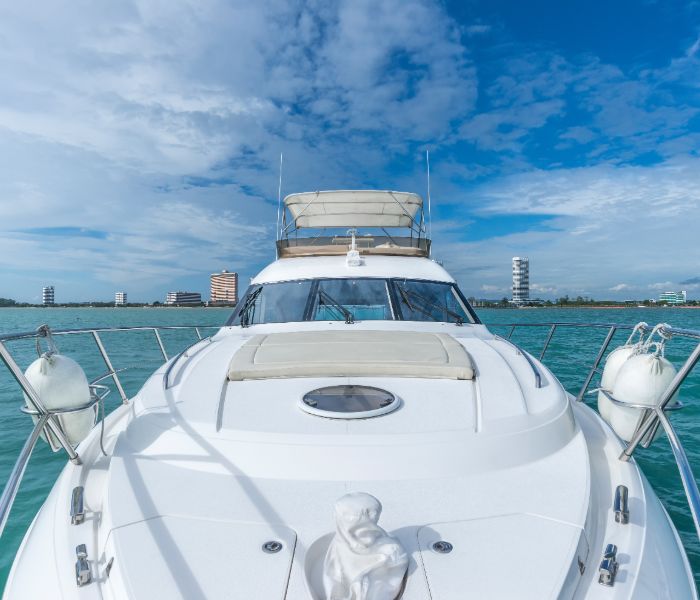 How Do I Book A Private Yacht in Miami?
Once you have decided on your final choice, it is a good idea to start the booking process. Some companies may have online booking, while others may have paperwork that you will need to fill out. You should know where you want to charter your yacht and where to get started. Keep in mind that certain places may be pretty busy during certain seasons. If you prefer a much more quiet experience, it may be a good idea to book your yacht at a time of the year that is less busy. Let your booking agent know how many people will be traveling with you to find a comfortable yacht for everyone on board. Also, let the booking agent know the occasion for which you will be booking the yacht so that they can make sure that your accommodations comfortably match. For instance, if you are booking a couple's getaway, it wouldn't be good to book a yacht with single beds. The more detailed you are in the booking process, the better.
Are you ready to have the time of your life on a Yacht in Miami? Private Yacht Rental Miami can help you enjoy a wedding, birthday, or other celebration in style. Call today to learn more about our luxury yachts and get started with booking your next trip. Don't forget to ask about our insurance plans!