If you want a bachelorette party in Miami, then you're in the right place. Bachelorette parties are always so fun, but sometimes it can be hard to figure out what to do during your trip. Miami is one of the best places to have your bachelorette party because there are so many awesome things to do, no matter what you're into. We'll give you seven tips to have an unforgettable bachelorette party in Miami. 
Hit The Beach
Plan Your Outfits
Make Reservations in Advance
Tour The City 
Opt for a Spa Day
Take a Fun Ride
Hire a Photographer or Remember to Take Photos
Tips For A Miami Bachelorette Party
We're here to give you seven excellent tips for having a great bachelorette party in Miami. There's a lot to do in this city, but we want to ensure you have all the bach party ideas. However, for most groups, the best option is a bachelorette yacht party in Miami.
Hit The Beach
The beach is a pretty obvious thing you can do in Miami, but Miami beaches are so beautiful and so much fun. You can go to the beach just to lay out, take pictures, go swimming, or relax with the sounds of the waves. 
There are a few different beaches you can go to, but in Miami, you're sure to be close to one no matter where you are. The beach is excellent for spending a day during your bachelorette party. 
2. Plan Your Outfits
Something that a lot of people don't think about is planning out what they're going to wear. If you're on a bachelorette weekend, you'll probably want to be dressed very cutely. Planning out outfits for different occasions can make your trip more memorable. Plus, it will make for even better pictures during your stay. 
3. Make Reservations in Advance
Making reservations for your trip will save time and ensure that you try the best restaurants. There are so many incredible places to eat in Miami, but sometimes it can be hard to get in, so pre-booking your reservations can ensure you eat in the areas you want to. Plus, it helps with wait times at restaurants as well. 
Some of the restaurants with the hardest-to-get reservations include: Carbone, MILA, and Komodo.
4. Tour The City 
There are many different tours you can go on in the city of Miami. Whether you're looking to look at art pieces, tour restaurants, or other types of tours, it's sure to keep you busy for a few hours during your stay. 
This is great also if you have a particular interest or haven't been to that city before and want to explore. This is a great thing to do on your first couple of days in the city as it can help familiarize you with the town before heading through your weekend/week. 
5. Opt for a Spa Day
A spa day is almost essential on your bachelorette weekend. A spa day is a great way to rest between partying with your girls. It can be a great way to relax or an excellent way to end the bachelorette party. Getting a massage or facial will be a great way to help you recoup and relax after partying. 
6. Take a Fun Ride
Whether taking a party bus, a dressed-up car, or some other transportation, it's always fun to make it more memorable. For example, decorating the inside of the car or vehicle is a great way to add some fun. Plus, party buses can have drinks, music, and lights on them, making even the trip to Miami much more fun and memorable. You might even take a fun ride on a boat. Miami is well-known for its bachelorette party boats.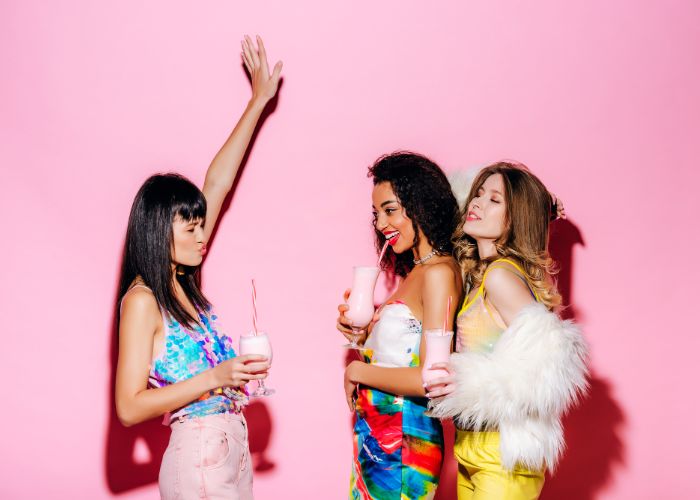 7. Hire a Photographer or Take Photos
Photos are an excellent way to reflect on the fantastic memory of your bachelorette party. Plus, when you're drinking, it's always nice to have fun photos of that. You can hire a photographer in the area or willing to come on the trip with you to take photos throughout the journey. A videographer or taking videos is also a unique and fun way to capture the moment. 
Can You Throw A Party on A Yacht? 
It's possible to throw a party on a yacht if that's what you want. It's a great way to have a memorable party, as it's a unique boating experience. Bachelorette parties, in general, are one great thing to have on a yacht because it has many different experiences right on the boat. 
What Happens at a Yacht Party?
Most yacht parties are private events and can range from a casual party with a few friends to a large, formal affair. A party on a yacht is also great for celebrations such as weddings, birthdays, or bachelorette parties. Yacht parties can be catered, or they may include a buffet of food. There is usually music and sometimes dancing. Many people enjoy the opportunity to get up close to the water and enjoy the view from the deck of a yacht. Depending on the size of the yacht, some activities may include snorkeling, swimming, or fishing. Some people even bring their own paddle boards and kayaks to enjoy out in the open sea. No matter how you choose to spend your time at a yacht party, it will be a memorable experience!
At most yacht parties, it is important to remember to respect the captain and crew. Be sure to follow all of their instructions, as they may have safety procedures in place.
The Bottom Line
Overall, bachelorette parties are meant to be very memorable and fun. So if you're looking for some excellent tips, then definitely follow these on your next trip to Miami. Remember, too, that there is a lot to do on a yacht, so if you're looking for a complete experience with many entertainment options, check out yacht bachelorettes!
Call our company, Miami Luxury Yacht, if you want to experience a bachelorette yacht party.