Have you recently been invited to a party and started getting ready only to discover that the party is aboard a yacht? Okay, now is the time to panic, especially if you've never been aboard a yacht. Getting together with friends on a yacht will probably be one of the most exotic, luxurious experiences you'll have in your life. With that being said, you don't have to necessarily dress in the most exotic and luxurious clothes on Earth unless, of course, you want to.  The key to dressing well for the yacht is to ensure that you 1) dress comfortably and, 2) respect the yacht. We'll explore what each of these means, along with what to wear on a yacht and some other extra tips that could be helpful.
Type of Events You May Anticipate Aboard a Yacht
You may be nervous about what you should wear to a yacht party. But most of the time, the events that are on a yard or events that you could celebrate on land. The only difference is you will be enjoying the beautiful Waters of the ocean and the lovely ambiance of the yacht itself. If you've never attended a party on a yacht, here are some types of events that may be held aboard a yacht.
Typical Yacht Parties and Events
Birthdays (Including milestone birthdays)
Graduations
Weddings and receptions
Corporate parties
Retirement parties
Day parties
Family celebrations
Anniversaries
Bachelor and bachelorette parties
Media events
Engagement parties
Not-So-Typical Events
Special-themed parties
New Year's Parties
Religious celebrations
Coming-of-age parties
There are a wide variety of events that you can have aboard a yacht. But keep in mind that you don't necessarily have to dress for these events in the way that you would on land. As a matter of fact, for some of these more formal events, formal clothing may be completely uncomfortable to wear. If you do decide to wear formal clothing to a yacht party, make sure you bring along comfortable clothing to where after the engagement is over so that you can enjoy being part of the fun and games that may follow.
Why Comfortable Clothing Is Critical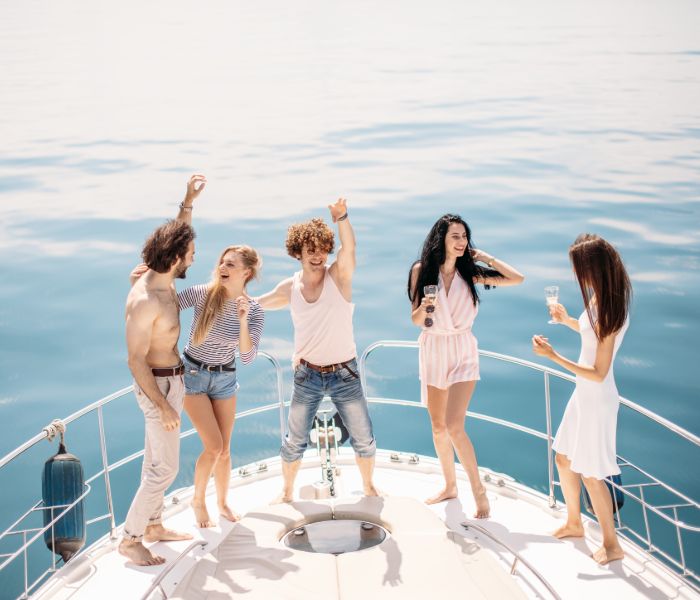 A yacht is a luxurious experience. So, you don't want to show up wearing less-than-stellar attire. However, you may not want to wear your Sunday's best, either. Your experience aboard a yacht may vary. One moment it may be quite breezy, and the next, it could be quite toasty. After all, you are out on the open sea. So, it is a good idea to keep this in mind when picking out your attire. As a rule of thumb, you want to wear clothing that allows you a full range of motion. So, it may not be ideal to wear clothing that may rip or come undone as soon as you bend over or sit down.
Additionally, since the weather can change drastically, you may want to dress in layers and prepare to take off clothing rather than assume that it will automatically be hot aboard the yacht. Also, try to choose loose clothing that allows you to cool down. Wearing clothing that is heavy or compact may make you much more uncomfortably sweatier than the other guests. Besides, you'll be on the open sea, and a sea animal may splash water on you. So it wouldn't be ideal to wear something that is difficult to dry easily.
Why You Must "Respect the Yacht"
To you, the yacht party may be a simple get-together with your friends, and family.  however, to the captain and the crew,  their yacht is their pride and joy.  so, it is critical that you dress in a way that respects the atmosphere of the yacht. What this means is you don't want to wear clothing or shoes that could cause damage to the yacht. These damages could include marks from shoes or dark-colored clothing that is not colorfast and can stain parts of the eye.
Another thing to keep in mind is that even though the people aboard the yacht may be a small group of friends that you know well, you still want to wear clothing that doesn't make them feel uncomfortable. So, try to leave t-shirts and hats with political statements or other outlandish statements written on them off the yacht.
What to Wear on a Yacht (Clothing Aboard)
You can be as brand conscious as you like, but the most important thing is that you try to wear comfortable clothing and accessories. Here are some tips on what you should wear aboard a yacht.
Clothing for a Yacht Party
If you're going to dinner on a yacht or a nighttime yacht party, chances are the yacht will be docked or anchored. In this situation, you may wear something fancier, depending on the dress code set by the host.
Cocktail dresses
A wedding or cocktail party will require evening wear like a cocktail dress for women and dress pants for men. Flat shoes, like ballet flats, are recommended to avoid tripping or navigating sea legs in high heels.
Summery Fashion Statements
Ladies, this is your chance to wear big, bold, fashionable clothing you may not wear anywhere else. Check out some items you should bring along for your yacht excursion.
Sun hats
Quality sunglasses
Swimwear with the appropriate cover-ups when not swimming
Bermuda shorts
Loose shirts
Boat shoes
Knee length summer dress or flowy maxi dress
Light sweater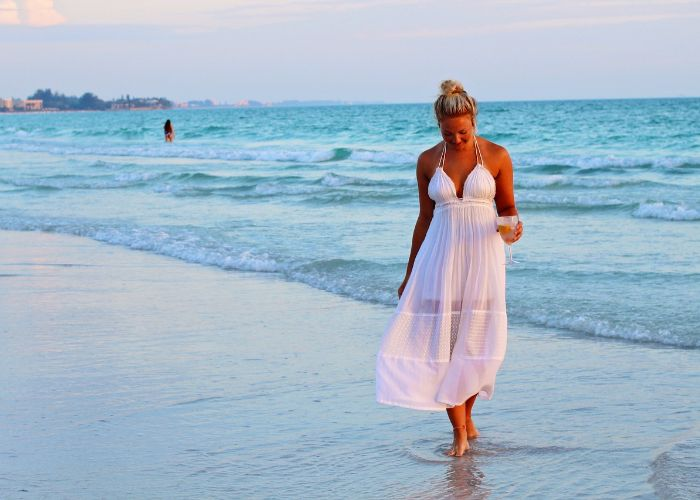 What Should Men Wear?
Guys who will be attending a yacht party will want to be comfortable and fashionable, too. Here are some items you may want to wear when at a yacht party.
Linen clothing
Bold print shirts (e.g., Hawaiian or flower patterns )
Quality sunglasses, particularly aviator or wayfarer styles
Quality brand swim shorts
Boat shoes
T-shirt with a matching jacket
Sports jackets with a nautical vibe
Polo shirt
Seersucker clothing
Dress pants for nighttime events
Extra Clothing Tips
While it is imperative that you have fun on a yacht, there are some unspoken rules you'll need to abide by so that you can have a pleasant experience and not offend fellow guests or the crew. Here are some extra helpful tips associated with yacht etiquette to keep in mind.
Just because you're out in the open air is not an invitation to fire up your cigars or cigarettes. Make sure you know where the designated smoking areas are, and try to avoid getting your smoke on other people's clothing.
Avoid wearing sneakers or types of shoes which could leave marks on the floor of the yacht.
Don't walk around on the boat barefoot.
Refrain from showing off too much skin, whether you're a man or a woman.
Avoid wearing flip-flops but do choose comfortable shoes.
Don't wear heels. They may get caught between planks, creating a trip hazard. Or could destroy the wood on the boat.
Bring extra pairs of clothing in case the weather changes or your clothes get sopping wet.
Avoid wearing tight, short clothing.
Bring a blanket in case it gets cool at night.
If you're carrying purses with buckles, avoid scratching parts of the boat with them.
Make sure shoes have the appropriate grip on the bottom.
Carry some sun protection to avoid getting sunburned aboard the yacht.
Avoid wearing clothing with synthetic fibers. Instead, opt for natural fabrics like cotton, hemp, jute, and linen.
Bring waterproof clothing or accessories if you have some. It will protect your valuables such as phones and cameras.
These are just a few styles and tips to keep in mind when aboard yacht parties or a yacht trip. Are you ready to book an event aboard one of our luxurious sailing or motorized yachts? Call today to schedule a consultation and book your next event with Private Yacht Rental Miami.